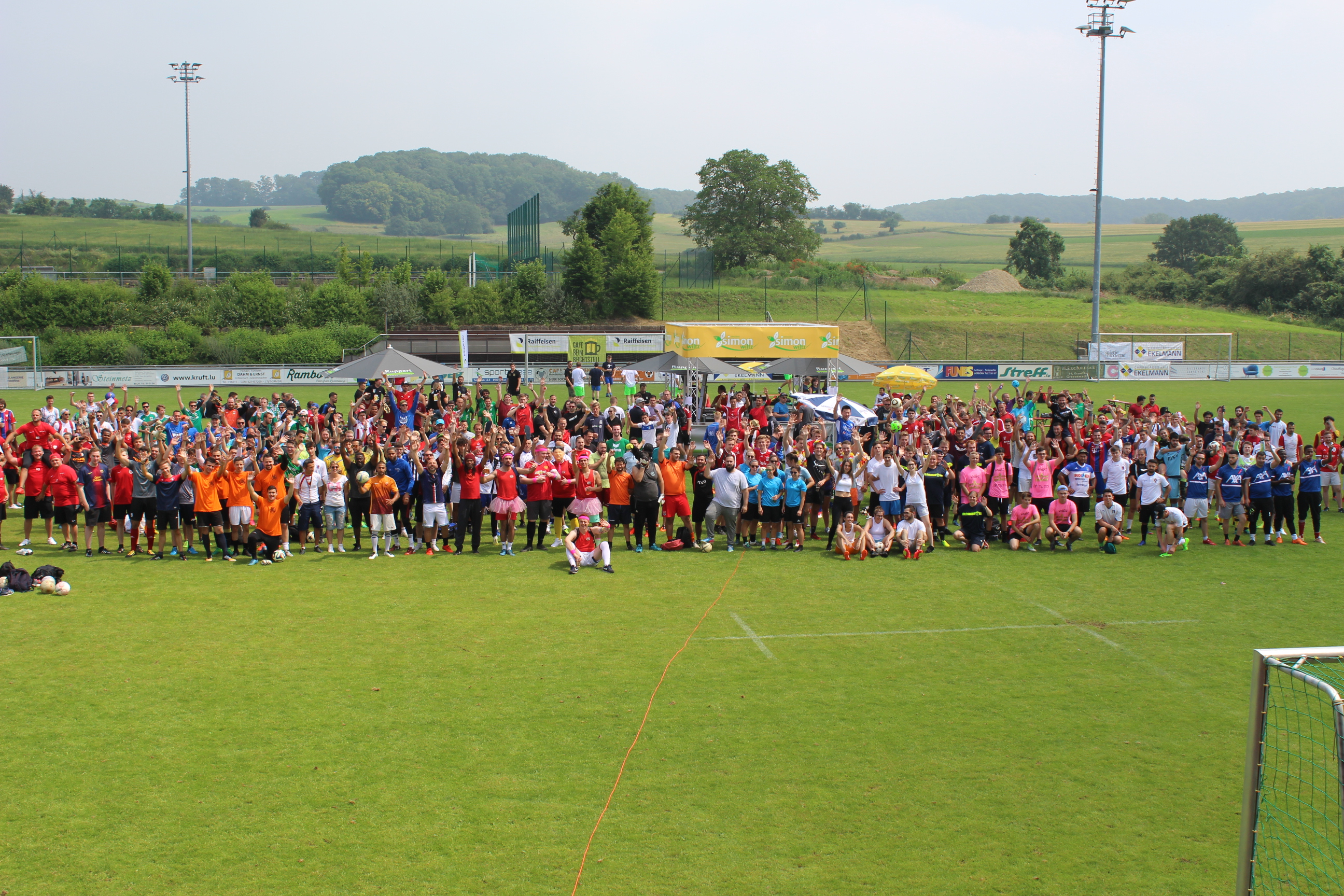 Kings of Penalty 2018 - 10 years Gold Edition
10 Joer Kings of Penalty, eng wierklech aussergewéinlech Editioun, an allen Hisiichten.
Freides Owes ass et mat eisem Concertsowend lass gaangen. Traditionell gett den Optakt emmer vun der Bech-Berbuerger Musek gemaach, dest Joer mam neien Dirigent Daniel Heuschen. Well d'Wieder kuerz virun hierem Concert no Reen ausgesinn huet, hunn déi iwwer 40 Musikanten sech missten am Zelt installéieren, waat der Stemmung awer keen Ofbroch gedoen huet. Duerno huet de finneschen Duo Stage Addicts mat senger relaxer Art a Weis a senger authentescher Accoustic-Musek d'Leit begeeschtert. Als Ofschloss huet Timeless rem d'Bühn gerockt, sie geheieren jo schon déi läschte Joren quasi zum Inventar.
Samsdes waren fir de groussen 11m Tournoi iwwer 90 Equipen ugemellt, 83 sinn der dann schlussendlech den Dag selwer un de Start gaangen. Mat engem liichte Retard, trotzdem gutt gelaunt si mir bei beschtem Wieder gestart. No der eischter Gruppephase hu mir duerch e klengen Fehler am Programm leider weider Zäit verluer. Nodeems den Tournoi rem um rulle war, si lues a lues däischter Wolleken opgezunn. Wéi Meteolux dunn och nach eng Alerte Rouge annoncéiert huet, huet den Tournoi missten ennerbrach an den Terrain geraumt ginn. Well d'Situatioun sech net verbessert huet, ware mir leider gezwongen fir den Tournoi komplett ofzebriechen. 18 Equipen waren zu deem Moment nach am Rennen em den Titel.

D'Schlussmatcher ginn nächste Samsdeg ab 17h00 op der selweschter Plaz nogeholl. Déi betraffen Equipen sinn die folgend a ginn och nach eenzel kontaktéiert - all déi aaner kennen awer selbstverständlech kucke an e Patt drénke kommen.
Legenden an de Gollom
St Etienne
Watz hat's
Dropkick Peckers
Tunneldisco
Kings of Salah
SC Nankatsu
Soa-Squaa
FC Potaaschbierg
Teebeutels
Companeros
Athletic BinBlau
Ultimate Team
FC Hackedicht
Biwerbouwen
Bloen Iesel
Panzvollisten
Rousporter Bouwen
Mir hoffen, dass all d'Equipen Zait hunn fir den Tournoi op en Enn ze Spillen, emmerhinn ginn et jo nach schéi Präisser ze gewannen.
Déi extra Gold Edition Challenges konnten awer nom Ofbroch ausgewert ginn. De Beer Challenge ass gewonne ginn vun der Equipe "Dynamo Doppelkorn" mat 49 Trays (déi zweet Plaz deelen sech "Tunneldisco" an "Duuschtii" mat jeweils 38 Trays). Beim Dress Challenge hat d'Equipe "Saufen Buppen Chachacha" mat Costume-Krawatt déi bäschte Figur gemach.